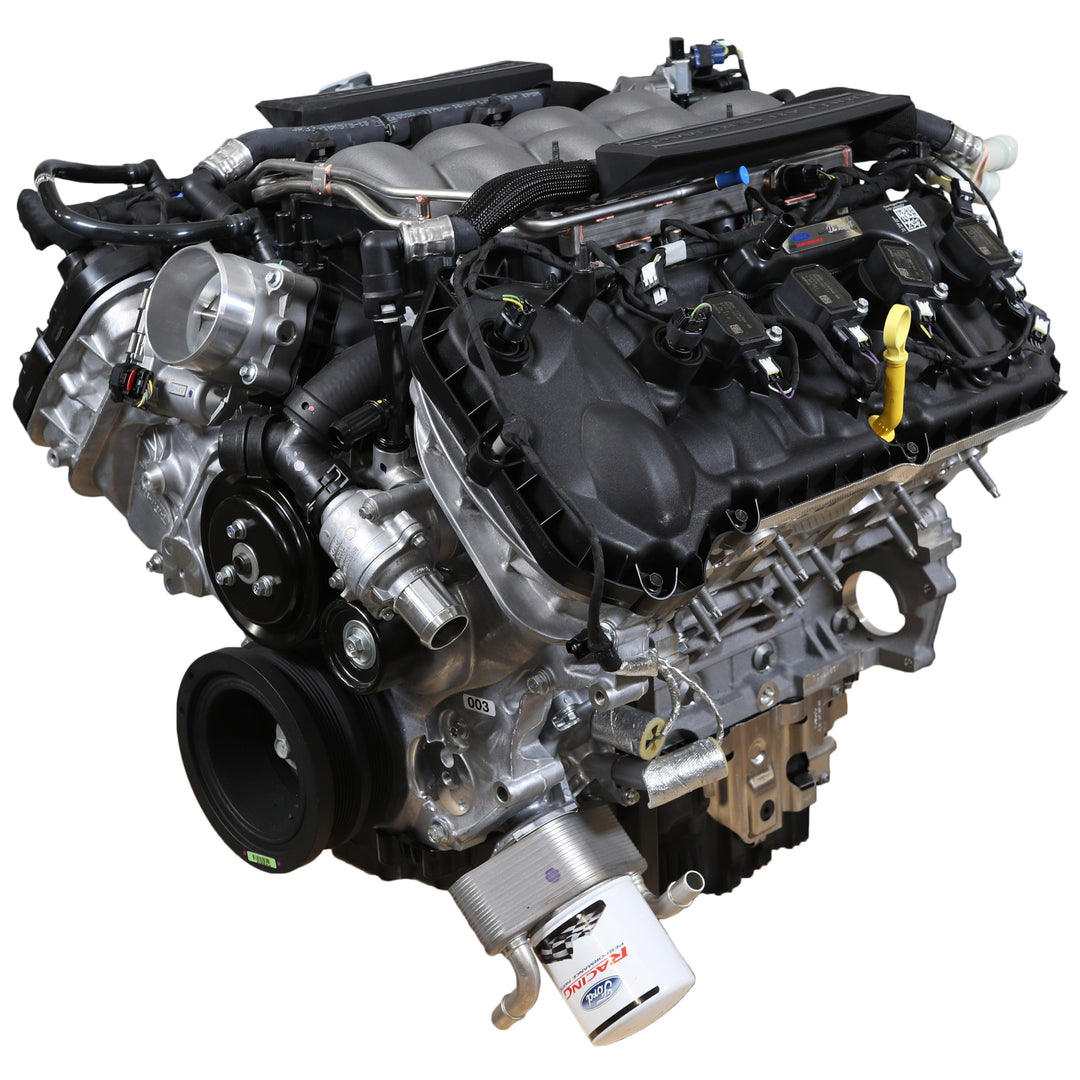 Ford Racing M-6007-A50SCB - 5.0L Gen 3 Aluminator SC Crate Engine
Regular price
$14,580.00
Sale price
$12,550.00
/
---
Shipping costs and lead times vary
Unleash the true potential of your vehicle with the Ford Racing M-6007-A50SCB - 5.0L Gen 3 Aluminator SC Crate Engine. This powerhouse of performance is the ultimate upgrade for your 2018-2021 Mustang GT 5.0L model. Prepare to be blown away as this beast takes your driving experience to new heights.

Crafted with precision and engineered for excellence, the Gen 3 Aluminator SC Crate Engine is designed with forced induction in mind. Its advanced features, including Twin Independent Variable Camshaft Timing (Ti-VCT), deliver mind-blowing power and performance that will leave you in awe.

Unlike the factory engine, this beast is equipped with low compression forged pistons and H-beam connecting rods, ensuring it can handle the pressure of forced induction without breaking a sweat. With a 9.5:1 compression ratio, this crate engine is tailored specifically for supercharged applications, guaranteeing optimal performance every time you hit the accelerator.

Durability and strength are at the forefront of this engine's design. The Mahle® Hard Anodized forged pistons with Graphal low friction coating and Manley® H-beam connecting rods with ARP® 2000 bolts provide unrivaled reliability, so you can push the limits without worrying about a thing.

Maximizing airflow is crucial for top-notch performance, and the Gen 3 Aluminator SC Crate Engine doesn't disappoint. The tuned composite Mustang GT intake manifold with production drive by wire and 80 mm throttle body ensures optimal airflow, while the four-valve-per-cylinder aluminum heads with roller-finger followers reduce friction and enhance efficiency.

Get ready for an exhilarating driving experience with the Mustang GT production camshafts, delivering power and responsiveness like never before. And for added convenience, this package includes Ford Performance colder, heat range zero (0) spark plugs, an oil filter, and billet steel gerotor oil pump gears.

Please note that the vehicle harness, PCM, and alternator are not included in this package. However, you can easily enhance your installation with the Ford Performance wiring, PCM, and installation kit.

Upgrade your ride with the Ford Racing M-6007-A50SCB - 5.0L Gen 3 Aluminator SC Crate Engine and experience the true power and precision that Ford Performance is renowned for. Get ready to dominate the streets and leave your competition in the dust.
Shipping costs and lead times can vary, use the contact form below to confirm order cost and timeframe.