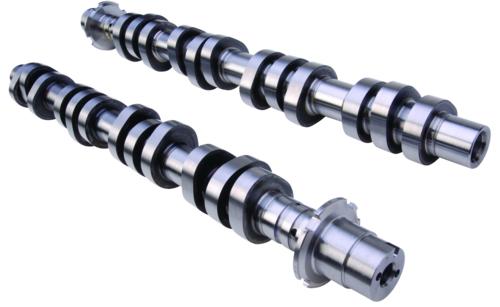 2005-2010 MUSTANG GT HIGH LIFT HOT ROD CAM SET M-6550-3V
Regular price
$1,055.00
Sale price
$860.00
/
---
Shipping costs and lead times vary
Give any 3 valve 4.6L or 5.4L a "lopey" idle reminiscent of 1960's muscle cars!
Engineered for naturally aspirated and supercharged applications
Excellent upgrade for the 2005-2010 Mustang GT 4.6L 3-Valve engine
Increases lift from the stock 11 mm/0.433" to 12 mm/0.472"
Intake / exhaust duration of 221 / 240 degrees (@ 0.050" lift), lobe separation of 110 degrees.
Compatible with production valve springs, followers and lash adjusters up to 6800 rpm
In order to achieve significant power gains, long tube headers should be used.
4.6L High Flow Intake M-9424-463V and Throttle Body M-9926-3V recommended.
Works well with Ford Performance  M-9926-3V 62mm Throttle Body, 4.6L High Flow Intake M-9424-463V, and ported cylinder heads
Approximately 50 hp gain with the stock intake manifold and Ford Performance M-6049-N3VOA/M-6050-N3VPA CNC heads at 6500 rpm. These cylinder heads are for reference only, and no longer produced by Ford Performance
Custom Calibration required! Calibration not included! Recommended WOT cam timing values included in instructions.
Warning! cams have standard size cam journals. Re-man engines typically require undersize cam journals.
Shipping costs and lead times can vary, use the contact form below to confirm order cost and timeframe.