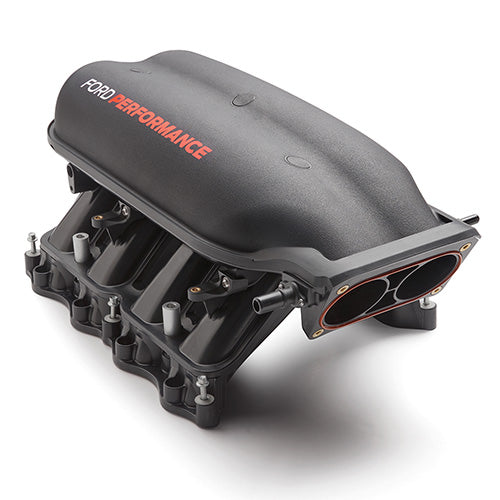 Ford Performance Mustang Cobra Jet Intake Manifold (11-23) 5.0 M-9424-M50CJB
Regular price
$1,500.00
Sale price
$1,250.00
/
---
Shipping costs and lead times vary
Enhance the power and performance of your Mustang with the legendary Ford Performance Mustang Cobra Jet Intake Manifold. This powerhouse of an intake manifold is back with a sleek new design that's sure to turn heads.

Manufactured using state-of-the-art tooling and inspired by the naturally aspirated Cobra Jet Race Car, this intake manifold is a favorite among racers and Mustang enthusiasts alike. Designed to fit a range of Mustang models, including the 2011-2014 Mustang GT, 2012-2013 Mustang BOSS 302, and 2015-2022 Mustang GT, this intake manifold delivers a significant power increase without sacrificing torque.

Crafted from lightweight composite material, this intake manifold not only looks great but also offers improved lid stiffness for optimal performance. The runners are expertly tuned to deliver peak power at 7750 RPM, giving your Mustang the edge it needs on the track.

Tested to withstand pressures of 20+ PSI, this intake manifold is built to handle the demands of high-performance driving. And to ensure a secure and leak-free installation, intake gaskets are included with the manifold.

Please note that additional components are required for installation, including the Ford Performance M-9926-CJ65 or M-9926-MSVT Throttle Body and the Ford Performance M-9444-M50B Installation Kit. For the perfect pairing, we recommend the Ford Performance M-9603-M50CJ Cobra Jet Cold Air Kit or an equivalent oval throttle body.

It's important to mention that the Cobra Jet inlet tube does not accommodate the aspirator tube found on automatic transmission-equipped Mustang GTs. Additionally, this intake manifold is not compatible with original equipment or Ford Performance strut tower braces. And while we're at it, we advise against using nitrous oxide with this manifold to prevent any potential engine damage.

Unlock the true potential of your Mustang with the Ford Performance Mustang Cobra Jet Intake Manifold. Experience the power, performance, and precision that Ford Performance is known for. Upgrade your Mustang today and leave your competition in the dust.
Shipping costs and lead times can vary, use the contact form below to confirm order cost and timeframe.